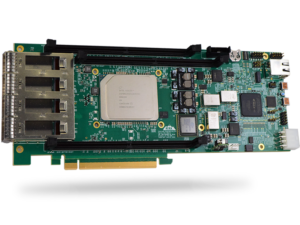 Colorado Engineering Inc. (CEI) is one of just a few select companies using samples of the just-released Intel® Agilex™ FPGA in its lower-cost PCIE development platform. CEI also plans to develop appropriate host drivers, specific algorithms, and other associated IP for the board to create a turnkey development platform for  designs based on the Agilex.
Intel Agilex FPGAs provide the flexibility and agility required to meet the challenges of a data-centric, 5G-fueled era by delivering significant gains in performance and inherent low latency. Reconfigurable and with reduced power consumption, Agilex FPGAs have computation and high-speed interfacing capabilities that enable the creation of smarter, higher bandwidth networks and help deliver real-time actionable insights via accelerated artificial intelligence (AI) and other analytics performed at the edge, in the cloud and throughout the network.
CEI's mixed-signal processing board – the Peregrine II Digital Receiver/Exciter (DREX) – targets 5G SDR applications. Peregrine II incorporates five Intel Stratix® 10 GX FPGAs and an Intel Core i7™ processor mounted on a single-board computer (SBC) module that plugs into a COM Express site on the board. Learn more about the Peregrine II development platform or the upcoming development platform based on the Agilex Stratix 10 FPGAs.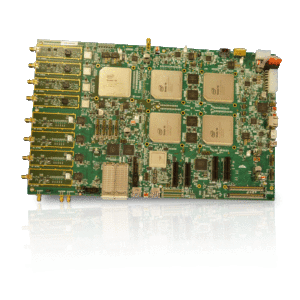 CEI created more than 50 FPGA-based designs for a variety of clients, including Intel and Altera. The small, woman-owned, Colorado-based business has experience in FPGA-based design dating back to the 1980s. Early on, CEI primarily served the military and aerospace sectors, but has since expanded to other markets such as computing and storage, test and measurement, software-defined radio (SDR), and 5G fronthaul applications. CEI specializes in analog or digital applications requiring high-speed, high-performance processing, and turnkey design solutions. CEI is a platinum member of the Intel Design Solutions Network and has several other key industry partnerships. Visit ColoradoEngineering.com to learn more.
Intel (NASDAQ: INTC), a leader in the semiconductor industry, is shaping the data-centric future with computing and communications technology that is the foundation of the world's innovations. The company's engineering expertise is helping address the world's greatest challenges as well as helping secure, power and connect billions of devices and the infrastructure of the smart, connected world – from the cloud to the network to the edge and everything in between. Find more information about Intel at newsroom.intel.com and intel.com.